We are going to walk through how to import your avatar to create a blueprint that is accessable in-game and when you log into your account at VRChat's website
Getting Started
Edit
All you need to get started is the link of a hosted avatar (Avatar Hosting Section)
Below you will see a picture and we will go through making a blueprint step by step
Blueprint Creation
Edit
1) Select the "Profile" Tab
2) Under "Create Blueprint" we will fill out the information requested
3) Enter your Avatars Name, this will not affect the nametag above the avatars, the purpose of having a Blueprint name is simply to describe the avatar that is being imported
4) Write a brief description of the avatar you are using. Information like what movie/show/video game it is should be entered if none of that applies just write Custom
5) Here we will insert the shareable link you obtained from the "Getting Started" section.
6) Tags are essential for finding the avatar you want in the marketplace. If you can't think of relevant tags go to your description and write keywords separated by tags
7) You can adjust your avatar blueprint image by using the sliders for x,y,z position.
Accessing your Blueprint on VRChat.com
Edit
1) After signing in, click on your username at the top right and select "Home"
2) On the Left, hover over "Blueprints" and select "Avatars" and you will see all the uploaded avatars you have under your account
3) Press the gear icon on the top left of the blueprint image where you can "Wear", "Edit" , "Add to Marketplace" or "Remove"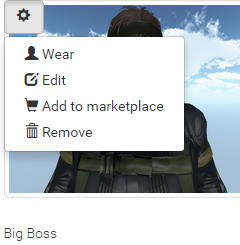 4) Adding to Marketplace allows your avatar to be displayed for public use, we encourage everyone to upload as much as possible.
5) Under Edit > Image Url you can paste a link contaning a custom 400x300 image you to display for your avatar either privately or in the marketplace. Note in the current version (0.9) you will not see the new image in VRChat.
This is the end of the tutorial. Create, upload and enjoy!